Mark Parisi
Marty Pants: Do Not Open! is Mark Parisi's debut novel, but he is no stranger to making people laugh. His "Off the Mark" comic panel has been running in newspapers around the country since 1987. His cartoon won Best Newspaper Panel from the National Cartoonists Society in 2009 and 2012, and Best Greeting Cards in 2013.
(For more on Mark's comic, visit offthemark.com.)
.
Mark's new children's book series, Marty Pants, combines text and cartoons in a hilarious way, and is getting critical acclaim.
Kirkus
"Off the Mark cartoonist Parisi's prose-and-cartoon series kickoff is a winner"
School Library Journal
"An easy pick for reluctant readers."
Booklist
"Showing uncommon mastery of the Wimpy Kid genre and narrative style."
Yabooks Central
"Plenty of random, laugh-out-loud moments."
Lincoln Peirce, New York Times-bestselling creator of Big Nate
"Funny and engaging. Marty Pants is a surefire hit!"
Fran Parisi, Mark's mom
"Engrossing! Kids will love it! I did!"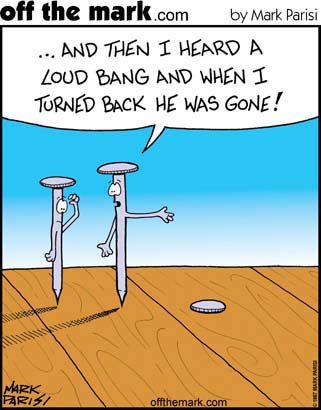 Off The Mark Cartoons
Mark Parisi has been creating the syndicated cartoon feature, off the mark since 1987.  This is the first cartoon that appear in newspapers.
c